It has been a good week for our house, with the debt on the decline and spirits on the rise, we are feeling good. We have also been incredibly busy with softball, choir and violin recitals, and a long field trip day. I am looking forward to a relaxing weekend with the promise of lovely weather. *fingers crossed*
Everyday Tips and Thoughts
reflected on a recent family vacation
with a picture
. I love how a picture can bring back a memory, even if it doesn't capture it perfectly.
One weekend the sailor and I had a wonderful weekend getaway in Seattle. We ate at the Space Needle restaurant Sky City. It was amazing. The food was excellent and the view was a 100 times better. We were lucky enough to get there while the sun was still out, watch the sunset and see the city lights come to life. These are my poorly captured, but sentimental photos.
One of my favorite dates with the sailor.
Seattle skyline from the Space Needle rotating restaurant.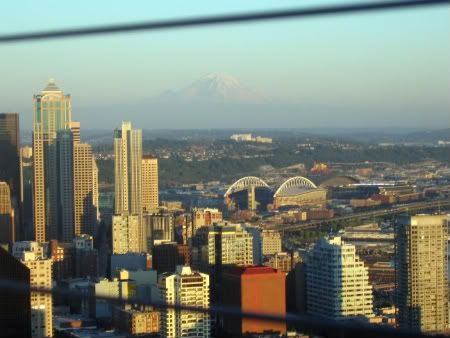 Mt. Rainier from the top of the Space Needle.
You have to look hard, but it's there.
Hope everyone has a wonderful weekend. I'm going to start a day early.